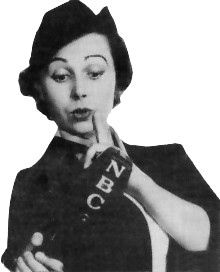 Author's Note: Portions of this article previously appeared in a piece called "Radio's Private Eyelashes", which was published in SPERDVAC's Radiogram, February 1996. It has been extensively re-written to include four additional female OTR sleuths who were not mentioned in the 1996 article.

Crime-solvers were a popular genre in the Golden Age of Radio, and of course, the majority were men. As a reasonable estimate, there were about 120 radio series that featured a male crime fighter in the lead role. But while their feminine counterparts were in the minority, they also provided us with many adventurous hours on the air.

I've been researching women sleuths since 1988 and so far I've found thirteen series in which the lead was a lady crime-fighter. While some of them were actually employed as private detectives, others included women, a defense attorney, and a police stenographer.
---
Radio's first woman crime-stopper made her debut sometime in 1936. Her name, Phyl Coe, was a pun based upon the sponsor, Philco Radio Tubes, and she was always described as "the beautiful girl detective." Her series, "Philco Mysteries of the Air" consisted of 15 minute transcribed episodes in which the radio audience was invited to solve each night's mystery. They were to submit their correct answers on official entry blanks provided by their Philo dealer. Large cash prizes were awarded to the lucky winners.

It's unclear just how many copies are in circulation because the following season the sponsor changed the gender of the detective, who was re-named Phil Coe, and played by a male. There are either 12 of each series, or perhaps a total of 12; since they had the same name it's hard to say. I have four episodes in my collection and while I cannot identify the lead or her cast members, they all seem very competent. The mysteries are well-plotted and the only uncomfortable part of the show is the ending. Phyl solves every case in 15 minutes, but doesn't tell us until the next episode. So if that program is not in your collection, you'll never learn the solution.

Radio's next woman detective made her debut in September 1937 and the show was broadcast from Chicago. It had the distinction of having the longest run for a female sleuth (four years) but that may be because it was a soap opera. Kitty Keene, Inc., sponsored by Dreft, told of the trials and triumphs of a former chorus girl who in mid-life opens a detective agency.

Over the four years it aired (one on CBS and three on Mutual) it went through three different actresses portraying Kitty: Beverly Younger, Gail Henshaw and Fran Carlon. Our title-heroine probably got her surname from the show's creator, Day Keene, who shared the writing responsibilities with Wally Norman. Four episodes are in trading currency; all are from the 1939 season.

The next woman shamus, chronologically, is Carolyn Day, Detective and I'm guessing her origin to be about 1940. Whether or not she actually reached the airwaves is yet to be determined, but there are four episodes in circulation, each five minutes in length. Their brevity would suggest they are audition shows, but I can't prove that either. Carolyn Day is both the star and narrator of each program. She and her father, Randolph Day, are detectives and her boyfriend is Larry Bixby, a homicide lieutenant of an unnamed metropolitan city. There are no cast credits nor can I identify any of the actors by their voices.

In the summer of 1941 NBC aired an entertaining but short-lived series entitled Miss Pinkerton, Inc. Its leads were the wife and husband Hollywood team of Joan Blondell and Dick Powell. Joan played Mary Vance, a law school graduate who inherits her uncle's private detective agency. She is dubbed "Miss Pinkerton" by NYC police Sgt. Dennis Murray, played by Powell. Only the initial episode has survived but it's testimony to the strength of the series. Even the supporting cast included talented veterans like Gale Gordon and Hanley Stafford.

Of special interest is how this series got its name. In 1932 Joan Blondell starred in a Warner Brothers movie based upon a novel by Mary Roberts Rinehart. The heroine of this book, and the movie, is Hilda Adams, a private nurse who solves crimes as a secret operative of a detective squad. Warner Brothers invented the title "Miss Pinkerton" for the film but it would be nine more years before Rinehart, who by this time had written four mysteries featuring Hilda Adams, would nickname her sleuth "Miss Pinkerton." This was in 1941, the same year the radio show began.

Coincidence? I think not.

I learned of the next feminine private eye through the assistance of a fellow OTR researcher in California, Norman Cox. He located an article in a Dec. 1941 issue of the New York Times announcing that Una Merkel, then portraying a dizzy reporter on radio, "Nancy Bacon," would switch to an equally dizzy sleuth, "Susan Bright, Detective" in the same time slot.

Neither of these Merkel assignments were on a full program. They were segments within Johnny Presents, sponsored by Philip Morris. This one-hour variety show, mostly music, usually included a 15 minute dramatic sketch. Over the years this portion changed from "City Desk" to "Psychic Detective" to "The Perfect Crime" to "Nancy Bacon Reporting" to "Susan Bright, Detective."

Una Merkel is equally celebrated on radio, stage and screen. Her radio career included Texaco Star Theatre, The Great Gildersleeve (she was Gildy's love interest Adeline Fairchild for one season) and Sweet Adeline in which she co-starred with Gale Gordon. She was in dozens of movies and garnered a 1961 Oscar nomination playing the mother in "Summer and Smoke" while on Broadway she won the 1956 Tony Award for "The Ponder Heart." I don't believe any recordings of "Nancy Bacon Reporting" or "Susan Bright, Detective" exist today.

During World War II no more women sleuths arrived on the scene but 1946 was a banner year when three new ones debuted on network radio. One was as much comedienne as crime solver, Meet Miss Sherlock

This was a CBS summer sustainer that recounted the adventures of Jane Sherlock, a scatterbrained amateur detective, and her boyfriend, Peter Blossom, a civil attorney who occasionally fainted.
There were two separate versions of this show; the first ran from July 3, l946 to September 26, l946 while the second one ran from Sept 28, 1947 to Oct 26, 1947. Both series were produced and directed by David Vaile, with scripts by E. Jack Neuman and Don Thompson. The announcer was Murray Wagner and the live orchestra was headed by Milton Charles. Sondra Gair had the title lead in the 1946 version, Captain Dingle of the NYPD was a youthful Bill Conrad and Joe Petruzzi played Peter Blossom.
When the series resumed in the fall of 1947, Betty Moran did the first epiosde but her voice was not "dithery" enough so Monty Margetts was brought in and she played the lead until it went off the air two months later. Barney Phillips was the voice of Captain Dingle. This series was more comedy than adventure, although crimes were eventually solved. Only two episodes have survived; both feature Gair in the 1946 version.
Preceding Meet Miss Sherlock by two months was Policewoman which ABC began in the Spring of 1946. It would remain on the air until June 1947. This series was sponsored by Carter's Little Liver Pills and was purportedly based upon the cases of Mary Sullivan, an NYPD officer for 35 years. Betty Garde did an excellent job portraying Sullivan and she was backed up by crisp plots in this 15 minute show. Walter Herlihy and Dick Dunham were the announcers; Jesse Crawford handled the musical responsibilities.
The good news is that Policewoman can rightfully claim to be the first female crime fighter on radio who was pure sleuth -- devoid of comedy, whimsy or soap opera roots. The bad news is that only two episodes have survived.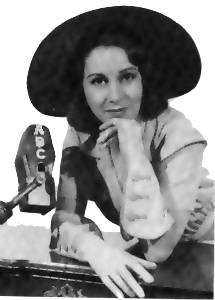 The third feminine crime solver to begin in 1946 had the services of one of the most well-known ladies in radio, television and stage: Arlene Francis. Her show, produced in Hollywood for ABC, was The Affairs of Ann Scotland and it ran from Oct. 1946 to Jan. 1947 under the sponsorship of the Hudnut Corporation. Ken Niles was the announcer, Helen Mack directed, and Del Castillo provided organ interludes.
Since no audio transcriptions have surfaced yet, we have to rely on the memories of Arlene Francis. In her 1978 autobiography published by Simon & Schuster, she recalls:
"I was playing a sexy girl detective, sort of a private eyelash . . . (who) trapped her quarry with guile and feminine wiles . . . I was very pregnant at the time. . .so I could hardly get close enough to the microphone. . .I could have been called Scotland Yard, because that's how wide I was. But my voice still dripped with the breathy nuance of the Come up and see me some time' variety. My friend Claire Trevor, listening to the show in New York, sent me a wire saying, You don't sound the least bit pregnant, but you do sound as though you might be at any moment.' "
It would be three years before the arrival of the next female sleuth, in the summer of 1949, but it was worth the wait because this show is what most OTR fans consider the best of the lady detectives on network radio. It was Candy Matson and it was produced by a West Coast NBC affiliate. Series creator Monty Masters originally intended this San Francisco detective to be a man, but then changed the gender (at the suggestion of his mother-in-law) and put his wife, Natalie Parks Masters, in the title role.
This husband and wife team had long-term supporting roles in the popular soap opera Hawthorne House and later starred in their own series, Those Mad Masters. But it was in Candy Matson that their collaboration achieved true excellence. Under Monty's direction, Natalie played a sassy, sexy and sensible private eye who provided listeners with 30 minutes of exciting entertainment.
Candy's understated love interest was homicide inspector Ray Mallard, played by Henry Leff. Her chief source of information, aptly named Rembrandt Watson, was the voice of Jack Thomas. The theme song was appropriately "Candy" and was played on the organ by Eloise Rowan. Most of the dozen surviving episodes have the same opening signature: a ringing telephone is answered by Natalie saying, "YUkon 2-8209. Yes, this is Candy Matson" and the organist goes into the theme.
The writers worked plenty of real Bay Area locations into the plot. Sound effects were handled by two pros, William "Bill" Brownell and Jay Rendon, and the engineer was Clarence Stevens. Despite the superb quality of the show -- and it was definitely the best of the nine series -- Candy Matson ran for only two years, never attracted a sponsor, and went off the air in May 1951.
Midway through the Candy Matson run, in the summer of l950, two other female crime fighters arrived. One made it only to the audition stage but the second series ran all summer. "Policewoman-USA"

is a fine show, but it never aired, so we have just the audition episode in circulation. It's called the "The Red Rose Murder"

and features a West Coast cast; the only one I recognise is Parley Baer as the police captain Gray. The heroine, who is used in an undercover operation, is Sylvia Rollins of the LADP. The talented actress who plays her is unknown to me. The show is a serious, adventure drama and well-paced.
The second show, "Sara's Private Caper", ran on NBC Thursday nights at 10:30 pm from 6-15-50 to 8-29-50. This was another West Coast show, starrred Sara Berner using her real name, and was sponsored by Wheaties. Sara plays a police station stenographer and the show is pure comedy. She and her goofy boy friend, a grocery store clerk (played by Bob Sweeney) manage to solve mysteries through more luck than skill. Only one show has survived from this series; it's the initial episode entitled "Rare Book Theft." This was the only series in which Berner had the lead, but she was in the cast of many other shows. She was one of several "Miss Duffy's", played Mexican senoritas on "Melody Ranch", was both Mabel and Gladys on "Jack Benny Show", Mrs. Horowitz on "Life With Luigi", etc.
That same month, the last of radio's crime fighters originated on NBC. The Lady in Blue

was a 15 minute Saturday morning series. An OTR collector in West Virginia, John Cooper, provided me with copies of the only two episodes in circulation. Clearly aimed at a juvenile audience, the main character is an attractive socialite who goes forth from her penthouse to combat crime, attired in blue mask, blue dress and blue sapphires. She is somewhat assisted by her Cockney maid, Harriet Higgins. The plot-writing is a bit childish, i.e. her real identity is supposed to be super-secret but everybody (cops, victims, even cab drivers) knows where she lives.
Lady in Blue is probably a steal from a character in the comic pages (created by the Will Eisner team) who was called Lady Luck. She was an attractive socialite who went forth to combat crime while attired in a green veil and green dress. This emerald-clad heroine attracted enough attention in Eisner's Sunday supplement to eventually merit her own comic book in Dec. 1949, but it lasted only five issues.
While I can't prove that she was the genesis for The Lady in Blue, the similarities are compelling. The cast of the show is not identified during the program's closing and I am unable to recognize their voices. The series went off the air Dec. 8, 1951.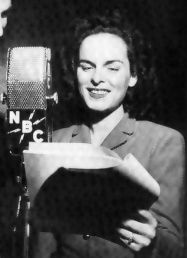 Playing radio's last lady crime fighter was a prominent actress, Mercedes McCambridge. The series began on NBC under the title "The Defense Rests" in the spring of 1951. NBC soon dropped it so ABC picked it up, kept the same cast, re-titled it :"Defense Attorney" and aired it from August 1951 to December 1952. McCambridge, portraying an attorney named Martha Ellis Bryant, spent virtually no time in the courtroom and instead was in the streets, solving crimes and mysteries. She was assisted by her boy friend, Jud Barnes, a reporter, played by Howard Culver (whose "Straight Arrow" series had just gone off the air.) Six episodes of the ABC series and one of the NBC version have survived and all attest to the excellent writing, good acting, and fast pace of a well-done adventure show. When Attorney Bryant solved her last case on 12-30-52, it brought down the curtain on OTR's lady crime fighters.