In Memoriam
Dedicated to those OTR friends who have gone to see their maker!
Thank you for sharing your lives with us

Tony Marvin

Tony Marvin, 86, Announcer for Radio

Tony Marvin, the mellifluous radio and television announcer who proclaimed "It's Arthur Godfrey time!" over the airwaves in the 1940s and '50s, died Oct. 10, 1998 at the Bethesda Memorial Hospital in Boynton Beach, Fla. He was 86 and lived in Boynton Beach.

Growing up in New York City, Marvin dreamed of being a doctor, and after graduating from St. John's University, he attended the Long Island College of Medicine for two years. But the Depression intervened, and he quit school to support his family as a theater usher. He eventually decided to make his career in show business.

His big break came during a stint as a mechanic in the mid-1930s. As he serviced a limousine, the owner heard him singing and offered to pay for a vocal teacher for him. The result was a scholarship for a year's study with an MGM voice coach.

He soon landed leading roles with the New York Operatic Guild, and moved on to light comedies in the New York theater world while simultaneously working the odd radio job. In 1937, he was hired by WNYC as the station's chief announcer and later was made the official "voice" of the New York World's Fair.

Marvin joined CBS in 1939 as an announcer and a newsman, working on reports from such war correspondents as Edward R. Murrow and William L. Shirer.

In 1945, Marvin was approached by Arthur Godfrey to take over as announcer on his popular radio show. He made the role his own for nearly 14 years, enduring through Godfrey's two television variety shows. More a sidekick than a cut-and-dried announcer, he was famous for his resonant bass voice, his ability to warm up an audience and his sophisticated banter with Godfrey.

After Godfrey cut down on his broadcast activities, Marvin moved over to Mutual Radio as a newscaster, eventually starting his own radio talk show and doing voice-overs in commercials. He was the original Kellogg's Tony the Tiger, said his wife of 61 years, Dorothea.

In addition to his wife, he is survived by a daughter, Lynda Marvin of Yonkers.
Richard Denning

Richard Denning, 84, an Actor on Radio's "Mr. and Mrs. North" and "My Favorite Husband"

Richard Denning, a character actor who was perhaps best known for his roles in the television series "Mr. and Mrs. North" and "Hawaii Five-O," died on Sunday 10-11-98, at the Palomar Medical Center in Escondido, Calif. He was 84 and lived in Rancho Bernardo, Calif.

Born Louis Albert Heindrich Denninger in Poughkeepsie, N.Y., Denning moved to Los Angeles with his family when he was 2. After graduating from Woodbury College in Montpelier, Vt., he joined his father in the garment business and worked his way up from office boy to vice president. But the acting bug had bitten him in college, and he switched professions.

After a night-school course in drama and performances in a small theater in Los Angeles, Denning won a radio-acting contest that lead to a screen test and a Paramount contract in 1937. Tall and blond with a chiseled jaw, Denning appeared in some 50 films between 1937 and his enlistment in the Navy's submarine service in 1942. "Beyond the Blue Horizon," in which he was cast opposite Dorothy Lamour, was his favorite, said his daughter, Diana Dee Dwyer.

After serving three years in the South Pacific, Denning returned to film work, appearing in such movies as "Some Like It Hot," "The Creature From the Black Lagoon," "Adam Had Four Sons," "The Lady Takes a Flyer" and "An Affair to Remember," in which he played Deborah Kerr's fiancÚ.

In the late 1940's and early 50's, he starred with Lucille Ball in the CBS radio comedy "My Favorite Husband," succeeding Lee Bowman in the role of a Midwestern banker married to Miss Ball's harebrained wife. His performance led to the television series " and Mrs. North," in which he starred with Barbara Britton; his other television credits included "Flying Doctor," "Michael Shayne" and "Karen."

Denning's final role was as the Governor of Hawaii, which he played for 12 years on "Hawaii Five-O."

Denning's first wife, Evelyn Ankers, died in 1985. In addition to his daughter by Ms. Ankers, Ms. Dwyer of Hawi, Hawaii, he is survived by his wife, Patricia Leffingwell of Rancho Bernardo and Kihei, Hawaii; four stepchildren, Mike Salzer of Kihei; Gay Salzer of Honolulu; Jackie Jacobson of Klamath Falls, Ore., and Sandy Salzer of Mariposa, Calif., and two granddaughters.
Lon Clark

Lon Clark, 86, Actor and Voice on Radio

NEW YORK October 9, 1998 -- Lon Clark, who began his career in radio drama and went on to a theatrical career on and off-Broadway, died on Friday at St. Clare's Hospital in Manhattan. He was 86 and lived in Manhattan.

Clark made his name as the rich baritone voice of a radio sleuth, starring from 1943 to 1955 in the popular weekly series "Nick Carter, Master Detective" on WOR-Mutual. He also appeared regularly on such shows as "The Kate Smith Hour," "The March of Time," "The Thin Man" and "Norman Corwin Presents," playing opposite performers like Orson Welles, Helen Hayes, Fred Allen and Art Carney.

Born in Frost, Minn., Clark studied at the McPhail School of Music in Minneapolis, worked in traveling tent shows as an actor and musician and then spent a season with the Cincinnati Summer Opera. He first tried his hand at radio drama in Cincinnati, then moved to New York in the 1940s. In later years he turned to stage work and at one point took over the role of Jamie from Jason Robards in the 1956 Broadway production of O'Neill's "Long Day's Journey Into Night."

He is survived by his wife, Michelle Trudeau Clark; two sons, Lon Jr. and Stephen, both of San Francisco; a brother, Gerald, of Plymouth, Minn.; and a grandson.
Gene Autry

LOS ANGELES (Oct. 2) - Gene Autry, the original singing cowboy, who went from yodeling and strumming a mail order guitar to becoming one of America's richest men, died Friday of cancer.

Autry, whose fortune was estimated at more than $350 million, was 91 and died at his home in North Hollywood where he had been bedridden for a month, a family spokesman said.

Former President Ronald Reagan, like Autry a former western movie actor who went on to a bigger career, and his wife Nancy issued a statement saying their old friend ''delighted and touched millions.''

The news also saddened the 100 residents of the small town of Gene Autry, Oklahoma, named after the singing cowboy back in 1941. Mayor F.W. Conway said Autry remained a local hero right to the end.

''We just celebrated his 91st birthday this weekend in Gene Autry with a four- day music festival that was real nice. It was one of the best music festivals we've had in this town, we had standing room only last Friday and Saturday night,'' Conway told Reuters.

Joanne Hale, co-curator of the Gene Autry Western Heritage Museum in Los Angeles, said Autry died of lymphoma, a form of cancer. ''He had a bout with lymphoma two or three years ago, but it went into remission. Then things started getting real bad about a month ago,'' she said.

Autry, the son of a Texas horse trader, began his career as ''Oklahoma's Yodeling Cowboy'' in 1929 and went on to record some of America's most popular songs including ''Rudolph the Red-Nosed Reindeer'' and ''Back in the Saddle Again.''

''Rudolph,'' recorded on a whim in 1949, has sold more than 30 million copies and is the second-biggest-selling Christmas song behind Bing Crosby's ''White Christmas.'' Autry also rode his horse, Champion, in about 90 movies and became one of the biggest box office draws in the 1930s and 1940s.

The profits from his ventures allowed him to buy the then California Angels baseball team in 1960. Although he spent millions buying the best players, the club never fulfilled his dream of winning the World Series.

In 1996, Autry sold 25 percent of the team to the Walt Disney Co. in a deal which also gave Disney the operating rights to the franchise. The team was later renamed the Anaheim Angels.

He was born Orvon Gene Autry in Tioga, Texas, on Sept. 29, 1907. After a nomadic childhood, at the age of 17 he settled with his family in Oklahoma where he learned to ride and rope. Soon afterward, he went to work as a radio telegrapher.

''When things got slow, I kept a little old guitar around that I would strum on,'' he once told a reporter. ''One night this farmer-looking guy with glasses on the tip of his nose came into the office and gave me some pages to send. Then he spotted the guitar. 'You play that?' he asked. 'Some,' I told him. 'Like to hear you,' he said.''

Autry played a couple of songs and the visitor, famed Oklahoma humorist Will Rogers, said: ''Hey, you do all right. You ought to get yourself a job on the radio.'' Autry took his advice and made his first records in 1929.

Later he was invited to appear on the National Barn Dance, a popular country music program, and recorded a million-selling country tune called ''That Silver-Haired Daddy of Mine,'' written with an old friend, Jimmy Long.

On his way to Chicago in 1932 he met Long's niece, Ina Mae Spivey, a 20-year- old music student. Three months and four dates later Autry proposed, and they were married. In 1934 the Autrys moved to Hollywood. Westerns were losing popularity and the studios were looking for someone to keep the genre alive.

Autry stepped in; three years later he was the top Western star at the box office for Republic studios, a title he held for six years. ''I honestly never considered myself an actor,'' he said later. ''I was more of a personality.''

Perhaps because he had little faith in his own talent, he became a shrewd businessman. He had taken a correspondence course in accounting and when he broke into show business he made it a point to check the ticket window receipts himself.

In 1940, he was the fourth biggest box-office attraction behind Mickey Rooney, Clark Gable and Spencer Tracy. In 1941 he was grossing more than $600,000 a year from records, personal appearances, endorsements and films.

But in July 1942, at the age of 34, he enlisted in the Army Air Corps, and his income dropped to $135 a month as a sergeant. He was allowed to wear cowboy boots with his uniform, but otherwise was treated as an ordinary G.I.

Flying cargo missions in the Far East, he realized the royalties from songs and endorsements would one day dry up, and he decided to make business a full- time pursuit.

His first major acquisition came in 1948, when he bought a radio station in Phoenix. That purchase became the cornerstone of a financial empire that at one point included eight other radio stations, a Los Angeles television station, a Palm Springs hotel, a 20,000-acre cattle ranch in Arizona and the California Angels baseball team.

He had his own radio show on the CBS network from 1940 to 1957 and enjoyed a friendly rivalry with America's other great singing cowboy, Roy Rogers, who died in July. He also was the first major film star to have his own TV series, ''The Gene Autry Show,'' which began in 1950.

He stopped performing in 1964, saying he ''stopped making films when they started making the horses taller.'' There were rumors that he drank heavily.

In a 1978 autobiography, he confronted the issue. ''Without realizing it,'' he wrote, ''I had grown dependent on liquor to relax. Drinking was a way to celebrate the end of a day or a deal ... It's a hard habit to resist and, after a while, you really don't want to resist.''

He said his drinking never interfered with his work.

When the Angels became available in 1960, Autry moved with customary speed and confidence. The opportunity came about when Los Angeles Dodgers owner Walter O'Malley pulled his team's game broadcasts off Autry's radio station, KMPC, complaining of poor audio quality.

Autry immediately tried to tie up radio rights to the American League's California expansion team and found that the prospective owners of the new club had soured on the deal. Three days later he produced a letter of credit for $1.5 million and became the owner.

REUTERS Reut20:39 10-02-98
Louis Marshall

Grand Ole Opry star, Louis Marshall "Grandpa" Jones died Feb 19 in Nashville, TN at age 84.

In recent years, he had suffered a series of strokes but had performed on stage as recently as January 10, 1998.

Jones was born in Kentucky, youngest of 10 children of a sharecropper. He taught himself to play the fiddle, mandolin and a 75 cent guitar. He got his first break in Akron, OH when he won a radio contest with his guitar.

Jones later teamed up with Joe Troyan on harmonica and this duo became part of the house band of the "Lum and Abner" radio show.

He served in WW II in the AFRS and after went back to Tennessee where he joined Pee Wee King's band at the Grand Ole Opry. He turned to banjo playing and became one of the show's biggest stars. He achieved fame as a regular on TV's "Hee Haw" but never forgot his "Opry" roots. Jones was elected to the Country Music Hall of Fame in 1978.
Harry Caray

Hall of Fame broadcaster, Harry Caray, died on Feb 18 at Rancho Mirage, CA, just as his Chicago Cubs were beginning spring training.

He began life named Harold Christopher Carabina in St, Louis, MO and was orphaned by the death of his parents by age nine.

In the 40s he got a job in radio in Joliet, IL and later worked in radio news in Kalamazoo, MI with another youngster, Paul Harvey. By 1945 he got a job on KMOX announcing the St. Louis Cardinal baseball games. He was at their mike for the next 25 years but left after a dispute with the Cardinals' owner, August Busch.

Harry went on to Chicago and did the White Sox games for 11 years. In 1982 he moved to the Chicago Cubs where he continued his mike duties, even after a 1987 stroke that limited his speech. Caray had never found his birth certificate, but was believed to be 77 when he died.
Catharine F. Heinz

Catharine F. Heinz, the founding Director of the Broadcast Pioneer Library (BPL) in Washinton, DC, died Nov 25 at Lake Forest, CA, a few miles from her birth site of Anaheim.

Heinz, 77, headed the BPL from 1971 until her retirement in 1995. During that time the library amassed 10,000 books, 2,000 radio scripts, 22,000 photographs, 900 oral history tapes, and 4,000 sound recordings. The BPL in l995 became part of the University of Maryland.

Heinz was known by OTR researchers through the country and assisted numerous authors in locating much-needed facts and photographs.
George O. Petri

George O. Petrie, star of stage, radio, television and film, died on 11-16-97 in Los Angeles at age 85.

He spent about 15 years in network radio, chiefly on the East Coast, and had the title or lead roles in: The Falcon, Charlie Wild, Private Eye, Amazing Mr. Malone, Call the Police, and Casebook of Gregory Hood. In addition he was a regular in the casts of other adventure shows (Big Town, Gang Busters, Philo Vance, The FBI in Peace and War, etc), soaps including Mary Noble, Backstage Wife, and kids' serials (Superman, Tennessee Jed, etc.)

He was a principal in several major movies, including Hud, Gypsy, and Planes, Trains & Automobiles. Petrie's career in TV encompassed 50 years, from the Kraft Television Theater in 1947 to the current series, Mad About You, where he played Sid, the comic film editor. He was also a regular on The Honeymooners and Dallas.
Arthur Tracy

The Friends of Old Time Radio are saddened at the passing of `The Street Singer' Arthur Tracy Dies at 98.

Arthur Tracy, a very popular radio, movie, and nightclub singer of the 1930s and 1960s whose recordings included "Pennies From Heaven," died of a heart attack Oct. 5 in his beloved town of New York City.

"The Street Singer" was a native of Philadelphia, and started appearing in New York productions in the early 1920s, and toured nationally in a musical about the life of Franz Schubert, "Blossom Time."

By 1930 Arthur Tracy had gained wider popularity singing on CBS radio, where he was billed as "The Street Singer." He had shows on the air several times a week and his records sold in the millions.

His repertoire was varied and sophisticated. He would sing love songs, ballads, and at times popular tunes. He sang in several languages, including Spanish, Italian and German, and always with the perfect diction of the professionally trained artist. His voice, even in his latter years, had a wide range and always absolute clarity.

Mr. Tracy toured internationally and made a series of movies. After World War II, he became less active as a performer for a time and was involved in real estate investments. In the late 1960's he returned to the stage. An early recording he made of "Pennies From Heaven" was used in the 1981 movie of the same name, starring Steve Martin.

The singer went to a screening of the film and recalled that "coming out of the theater, people were saying, `It sounds like Arthur Tracy.' They still knew the voice."

Publicity about the film led to a gig at a popular local nightspot, the Cookery, and a small role in the 1988 film "Crossing Delancey." He also appeared in the touring company of the play "Social Security" and without fail always attended the Friends of Old Time Radio convention in Newark, NJ.

Personal: Bill Bragg, David Lowe, and I had a chance to interview Mr. Tracy at Yesterday-USA several months ago. He was still walking 5 miles a day, singing at some events, and living life to the fullest in his apartment in New York City.

I had met Mr. Tracy at the first Friends of Old Time Radio Convention I attended, back in 1985. He was a gentleman, always a professional, and the very first "original" golden performer I ever had a chance to meet and shake hands with. It was a wonderful experience!

Reprinted from an excellent tribute given to Arthur by Bob Flood
Red Skelton

I think up in "The Ever -After"
The angels needed the joy of laughter.
Several clowns would be required to fit this need:
A variety of jesters....."Pure of thought, word and deed."

But to take so many from us just would'nt have been right
For sorrow is darkness, and comedy is light.

So God, in His wisdom, took just one soul instead:
The clown of many characters...the man we knew as "Red".

Gary Shehan

There are few things sadder than the death of a clown.


But with the passing of Radio and Television pioneer Red Skelton, who died Wednesday at 84 after a long illness, the loss cuts deeper. Gone are such vaudeville-inspired creations as hick Clem Kadiddlehopper, silent tramp Freddie the Freeloader, the Mean Widdle Kid ("I dood it!") and cross-eyed seagulls Gertrude and Heathcliffe.

Those gawky, wing-like elbows will flap no more.

For 20 years, the rubber-faced redhead's gentle brand of squeaky-clean humor tumbled into heartland living rooms. His variety series was a CBS Tuesday night staple from 1953-70 and placed among the year's top 10 shows eight times.

A product of the burlesque circuit, Skelton's specialty was pratfalls, pantomime and sight gags - a far cry from the cynical and oft-profane antics of today's post-Saturday Night Live stand-ups. His first big smash was a doughnut-dunking routine that resulted in a 35-pound weight gain. Skelton was so blissfully unhip, he would often crack himself up and barely get out the punch line.

Oh, maybe he was a little hip. In 1964, his show was among the first to feature the scruffy Rolling Stones.

For this winner of multiple Emmys and numerous lifetime achievement awards, being called a clown was the greatest honor. "To me that's the height of my profession," he once said. "It means you can do everything - sing, dance and, above all, make people laugh."

Skelton was more than just another funny face. He was a painter, author, composer, entertainer of troops, founder of the Needy Children's Fund and star of such popular MGM movies as 1941's Whistling in the Dark, 1948's The Fuller Brush Man and the 1950 musical Three Little Words.

As is often the case with successful comics, pathos was no stranger. A native of Vincennes, Ind., Richard Bernard Skelton was the son of a circus clown who died two months before he was born. He took his first job, as a newsboy, at 7 and entered showbiz at 10 in a traveling medicine show.

After stints on Broadway and guest spots on radio, Skelton broke into movies with his doughnut bit in the 1938 Ginger Rogers vehicle Having Wonderful Time and made 43 films.

He married three times. First wife Edna Marie Stillwell remained his chief writer even after their divorce in 1940. His second wife, whom he divorced after 28 years, committed suicide in 1973 on the anniversary of the day their son died from leukemia in 1958. He wed Lothian Toland, 25 years his junior and daughter of Citizen Kane cinematographer Gregg Toland, that same year.

Bitter after CBS gave him the boot and bad business deals lost him millions, Skelton never stopped laughing in public. His red locks may have been gone ("It's no more Head & Shoulders," he would joke, "it's Mop & Glo") and his TV heyday was long over. But Skelton continued to tour, doing about 75 dates a year including Carnegie Hall in 1990. He kept his topics current if corny: "No wonder Bill Clinton has a sore throat. He's been talking through his hat for a month."

You couldn't give Skelton a better signoff than the one he gave TV audiences:

" Good night, and God bless."

Commentary on the Pledge of Allegiance
by Red Skelton
As a schoolboy, one of Red Skelton's teachers explained the words and meaning of the Pledge of Allegiance to his class. Skelton later wrote down, and eventually recorded, his recollection of this lecture. It is followed by an observation of his own.
To listen to this actual recording with 'Real Audio' click on the Old Radio


I - - Me; an individual; a committee of one.
Pledge - - Dedicate all of my worldly goods to give without self-pity.
Allegiance - - My love and my devotion.
To the Flag - - Our standard; Old Glory ; a symbol of Freedom; wherever she waves there is respect, because your loyalty has given her a dignity that shouts, Freedom is everybody's job.
United - - That means that we have all come together.
States - - Individual communities that have united into forty-eight great states. Forty-eight individual communities with pride and dignity and purpose. All divided with imaginary boundaries, yet united to a common purpose, and that is love for country.
And to the Republic - - Republic--a state in which sovereign power is invested in representatives chosen by the people to govern. And government is the people; and it's from the people to the leaders, not from the leaders to the people.
For which it stands
One Nation - - One Nation--meaning, so blessed by God.
Indivisible - - Incapable of being divided.
With Liberty - - Which is Freedom; the right of power to live one's own life, without threats, fear, or some sort of retaliation.
And Justice - - The principle, or qualities, of dealing fairly with others.
For All - - For All--which means, boys and girls, it's as much your country as it is mine.
And now, boys and girls, let me hear you recite the Pledge of Allegiance:
I pledge allegiance to the Flag of the United States of America, and to the Republic, for which it stands; one nation, indivisible, with liberty and justice for all.
Since I was a small boy, two states have been added to our country, and two words have been added to the Pledge of Allegiance: Under God. Wouldn't it be a pity if someone said that is a prayer, and that would be eliminated from schools, too?
Red Skelton

Burgess Meredith

Burgess Meredith, who many feel is one of the most accomplished actors of our century, died September 10, 1997

Meredith spent a few years in Lakewood, California. He attended third- and fourth-grade classes (1916-18) at Madison Elementary School, 16601 Madison Ave., and lived at nearby 1545 Westwood Ave.

Meredith came to Lakewood from Cleveland's East Side where he was born the youngest of three children to physician father William George Meredith and mother Ida Beth (nee Burgess) Meredith.

Dr. Meredith, a native of Toronto, was of Welsh extraction. Ida was born in Fitchville, Ohio, in Huron County. Her family was originally from North Ireland.

The main reason for Meredith's sad memories of Lakewood, as explained in an autobiography published in 1995, were his parents' marital quarrels at the time. He said his father was frustrated and drank heavily, and his mother was in constant despair.

"All my life, to this day, the memory of my childhood remains grim and incoherent," he wrote. "If I close my eyes and think back, I see little except violence and fear."

Meredith took part in a few plays as a grade schooler. However, it was his choir-singing soprano voice as a child in Lakewood that hinted of a performing future.

In Lakewood he was pushed, more or less, into singing, in spite of early asthma problems that kept him from school much of the time.

When a nationwide audition, held by the Paulist Choristers Boy Choir of New York, came to town, Meredith participated and was one of the winners.

He was sent to New York City but never did join the Catholic choir there. Instead, shortly before that was to happen, his maternal grandfather, retired Rev. Oliver Burgess, intervened.

The Rev. Burgess, who was credited with being one of the founders of the first Methodist church in Cleveland, suggested that before affiliating with the Catholic group, his grandson try out for a Protestant group while in New York.

So, through the help of Meredith's sister Virginia, new arrangements were made for an audition at the Protestant Cathedral of St. John the Divine. In this, too, the young singer succeeded.

Thus, as a sub-teen, Meredith joined the St. John Choir in NYC, with the church providing schooling, board and lodging.

In the early 1920s, when Meredith was no longer a plausible soprano, he enrolled in the Hoosac Preparatory School at Hoosick Falls, N.Y., after which he entered Amherst College.

But despite a college scholarship, lack of money soon became a problem.

He quit school and got a job as a reporter on the Stamford Advocate in Connecticut. When that didn't work out, he teamed up with his brother George in operating a haberdashery at Fairmount Boulevard and Cedar Road in Cleveland Heights.

It wasn't long before their business flopped and Burgess returned to Amherst; however, not before doing a temporary stint of about two weeks of cub reporting for Cleveland's The Plain Dealer.

Subsequently, disillusioned as a student, he left Amherst a second time, Nevertheless, nearly a decade later, after his success as an actor, the college bestowed upon him an honorary masters degree in art.

In the late 1920s, Meredith drifted back to New York, where he had various fill-in jobs, among them selling vacuum cleaners, clerking at Macy's, and working as a runner on Wall Street.

Also, he made two trips to South America as an ordinary seaman on an ocean liner, after which he was fired by the ship's captain for disobeying orders.

"I was no good at anything except the stage," Meredith once told a reporter.

His springboard to Broadway was when he was admitted in 1929 to Eva Le Gallien's Civic Repertory Co. in NYC as an apprentice without pay. He scored his first big impression in the early 1930s when he received the role of Red Barry in Little Ol' Boy, the Albert Bein play of reform school life.

His first theatrical appearance in Cleveland was a three-day engagement at the Hanna Theater in 1936 as the male lead in Maxwell Anderson's Winterset.

Meredith served during World War II and attained a captaincy in the Air Force. He was wed four times. His first wife was attractive Helen Derby, whose father was president of American Cyanamide. That marriage lasted from 1933-35.

In 1936, he tied the nuptial knot with actress Margaret Perry. They were divorced in 1938. His third wife was screen star Paulette Goddard, from 1944-48. Before Meredith, she was the spouse of comedian Charlie Chaplin.

In 1950, Meredith married his present wife, the lovely former Swedish ballerina Kaja Sundsten, who is considerably his junior. They have two children -- son Jonathon, a musician, and daughter Tala, a painter.

Meredith has chalked up scores of impressive roles on stage, screen, TV and radio. He also has a host of citations for his standout accomplishments as a director through the years.

He is noted for his enthusiastic, eccentric portrayals that have spanned decades.

In 1939, he starred in the movie Of Mice and Men, taken from John Steinbeck's famous novel. In 1944, he appeared as Ernie Pyle in The Story of G.I. Joe, which General Dwight D. Eisenhower called "the best war film I have ever seen."

In 1966, Meredith played The Penguin in the motion picture Batman. Starting in 1976, he was Sylvester Stallone's fight manager in the Rocky film series.

More recently he had co-starred with Jack Lemmon and Walter Matthau in the movie Grumpy Old Men and its sequel, Grumpier Old Men.

Although best remembered for his stage and film career, Burgess Meredith was a stalwart fixture in radio broadcasts. His last public appearance before the OTR community was at the Newark FOTR Convention in October 1990.
Richie Ashburn

Richie Ashburn, the radio voice of the Philadelphia Phillies for the past 35 years, died at age 70 on September 8th, in New York City just hours after broadcasting the baseball game between the Phillies and the Mets.

Ashburn was a lead-off hitter for several years, playing for the Phillies, Cubs and the Mets.He acquired a reputation of being an excellent player on teams that had little talent. He made it to the World Series only once, batting .303 and leading the league in triples in 1950. His Philadelphia "Whiz Kids" lost to the Yankees that year in four straight.

Ashburn announced for the Phillies on radio and television since 1963. He was inducted into the Baseball Hall of Fame in 1995.
Katharine Hale

Katharine "Kay" Hale, age 93, died in Washington, DC on August 7th.

Hale, born in Cleveland, OH to millionaire parents, pursued a career as a radio commentator and free lance writer, specializing in interviewing celebrities.

On the air, she interviewed George Gershwin, FDR, Randolph Churchhill,Wendell Wilkie and Bob Feller.

She was also the radio commentator for the Cleveland Symphony Orchestra.
Jerry Doggett

Jerry Doggett, radio and TV sportscaster, age 80, died July 7th at San Jose, California.

He began on radio in 1942, announcing the games of Southwest Conference and later the Cotton and Sugar Bowls.

Later he did the play-by-play for SMU basketball and Dallas hockey. From 1956 to 1987 he was the voice of the Los Angeles Dodgers. He was also chosen to broadcast the 1961 Major League All-Star Game in 1961 and the 1959 Ryder Cup Tournament in 1959.
Jimmy Stewart

Jimmy Stewart, one of the last great stars of Hollywood's ``Golden Era,'' died at his home Wednesday, July 2, 1997 of a heart attack, his agent said. He was 89.

Stewart, a gangly, slow-speaking star who played an American ``everyman' in such classics as ``Mr. Smith Goes To Washington' and ``It's A Wonderful Life,'' won one Academy Award and was nominated for four more Oscars in a career spanning more than 80 movies.

A reluctant hero on screen, Stewart was a real-life hero, flying bombing missions over Germany during the Second World War and ending the war as the highest ranking Hollywood star in the military.

Receiving a life achievement award of the American Film Institute in 1980, Stewart told a star-studded audience: ``I give you James Stewart, a remarkably fortunate fellow. This award ties a ribbon round a lifetime of letting me get paid for what I liked to do.''

Mort Viner, his agent, said Stewart died of cardiac arrest at his home in Beverly Hills, which was immediately besieged by camera crews and fans as news of his death spread.

Some placed flowers on Stewart's star on the Hollywood Walk of Fame in tribute to one of the film industry's most enduring and respected icons, who hardly ever played the bad guy.

``Well that would be a hard reach for him. He had a lot of range, but that would have been a hard reach, `` fellow conservative actor Charlton Heston told CNN.

``You looked at Jimmy Stewart and said, 'oh yeah, that's the way to do it,''' said Heston. ``Show up on time, know your words, don't bump into things.''

He worked with some of the greatest names in Hollywood -- Katharine Hepburn, Alfred Hitchcock (in ``Rear Window'' and ''Vertigo''), Henry Fonda, Marlene Dietrich (''Destry Rides Again''), Grace Kelly (''Rear Window''), John Ford, Olivia de Havilland, Doris Day ``The Man Who Knew Too Much') and Bette Davis.

It was opposite Hepburn that he won his only Oscar, as best actor in ``The Philadelphia Story'' in 1940. In 1984 he was given an honorary Oscar.

Hepburn's business manager, Eric Hanson, said the aging actress, who has long been in retirement, was ``very sorry'' to hear of her friend's death.

``She doesn't want to say anything more. Just that she's very sorry,'' Hanson said.

Stewart, known to Hollywood as Jimmy but the rest of the world as James, was nominated four more times for best actor Academy Awards in ``Mr Smith Goes to Washington'' (1939), ``It's a Wonderful Life'' (1946), ``Harvey'' (1950) and ``Anatomy of a Murder'' (1959).

One of Hollywood's biggest stars at the peak of his career, critics sometimes complained he always played James Stewart, the small-town boy.

But behind his mannerisms lay years of hard training, perfecting what other actors, such as Cary Grant, and directors, like Ford and Hitchcock, called a formidable technique.

``He played himself, but he played the character,'' Ford said of Stewart. ``He was good in anything.''

A small-town boy from Pennsylvania who never lost his quiet courtesy, Stewart was earning $3,000 a week as a movie star in 1941 when he enlisted in the then-U.S. Army Air Corps as a private for $21 a month.

Stewart won the Distinguished Flying Cross, the Air Medal, the French Croix de Guerre and ended the war as a colonel. He refused all the publicity the military wanted to pour on him, insisting on being treated like any other serviceman.

At the age of 80, Stewart, his hearing almost gone and needing strong glasses, waged a campaign against studios ''colorizing'' black-and-white films, including Frank Capra's Christmas season classic ``It's A Wonderful Life.''

The death of his wife, Gloria, in February 1994 hit Stewart hard. He rarely left his home after that, his health deteriorated and friends said he continued grieving for years. In late 1995 he was hospitalized after falling at his home.

Born James Maitland Stewart, of Scots-Irish descent, on May 20, 1908, in Indiana, Pennsylvania, he said: ``I sort of grew up in the hardware store (his father owned).''

A lifetime Presbyterian, Stewart allied himself with conservative causes. He campaigned in 1976 for Ronald Reagan's failed bid for the presidency and was a ``hawk'' during the Vietnam War, in which he lost his stepson.

He graduated in 1932 with a degree in architecture from Princeton University, where he had appeared in shows as an undergraduate.

A classmate, Joshua Logan, who became a legendary stage and film producer, persuaded him to join a theater group on Cape Cod, Massachusetts, where he worked with Fonda and Margaret Sullivan.

He arrived in Hollywood with his friend Fonda in 1935 after both had played briefly on Broadway. He made a comeback on Broadway in ``Harvey'' in the 70s, a reprise of his role in the 1950 film.

In 1949 Stewart, then one of Hollywood's most eligible bachelors, married Gloria McLean, who had two sons, Ronald and Michael by a previous marriage.

Ronald was killed in the Vietnam War. Stewart always referred to him as ``my son.'' Twin girls, Judy and Kelly, were born to the Stewarts May 7, 1951.
George Fenneman, age 77, died May 29th of emphysema in Los Angeles.

Although chiefly known as the side-kick of Groucho Marx's TV show "You Bet Your Life", he had a long career in OTR, including the same role on the radio version of the Marx show.

He was the favorite announcer of Jack Webb, who used him on both "Dragnet" and "Pete Novak For Hire."

He got to play roles in various casts too: He was "Buzz", the pal of Dockery Crane (Dick Haymes) on the adventure series, "I Fly Anything." He was the back-up announcer on radio's "Gunsmoke."
---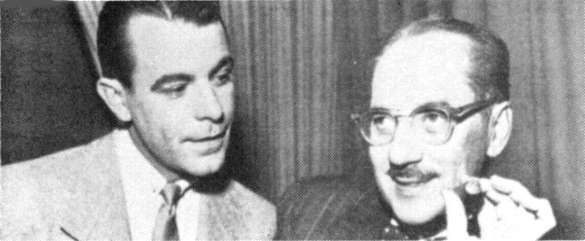 George Fenneman (left) with Groucho Marx during the "You Bet Your Life" show
October 5th, 1950
Dennis James, age 79, died June 3rd of cancer at his Palm Springs home.

He started in radio as one of many announcers on "Original Amateur Hour" and then was announcer on "Thanks To The Yanks", later titled "The Bob Hawk Show".

He achieved fame on TV as host of several game shows including "Cash and Carry", "The Price is Right" and "Name That Tune". (The latter was also a radio show).
Edythe Meserand, first woman news broadcaster on radio (1926 NBC New York) Died at age 88 on June 2nd in Charleston, NY.

She joined WOR in 1937 and won both a Peabody and a Freedom Foundation Award for her radio documentaries.

Three weeks before her death, she was selected as one of the inductees to the Hall of Honor of the Women's Press Club of New York.
Ann Hagen Randall, age 88, died in Washington, DC on June 16th.

She entered broadcasting in WW II when this New York native went to London as a radio correspondent for the United Press. She traveled widely in Europe and the Middle East, broadcasting for her news service. In 1952 she returned to the U.S. and headed up the radio and television section of the U.S. Information Agency.

She worked later as a TV producer in Pittsburgh and for ten years as a freelance TV producer for NBC.

Randall was a member of the National Press Club and the American News Women's Club.
Thank You! You are Number:
to pay your respects to these fine artists, and
to enter My Web-Site overall Since March 1, 1997.

---
Return To:
Main Table of Contents

Jerry Haendiges Productions © 1996 - 1997


.